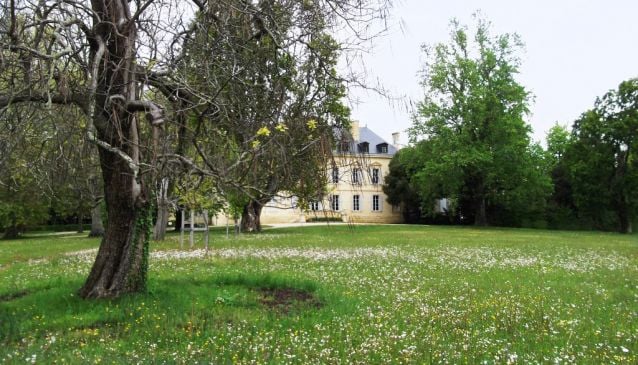 48 Hours at Château Siaurac, Bordeaux
Food & Drink
It's soon clear that Château Siaurac is more than a conveyor-belt for grapes, all be it fine ones
I realise there are many perks to my job. Being personally invited to spend the weekend as a guest of the family at Château Siaurac is undoubtedly one of them. Few people have the chance to get under the grand façade of one of Bordeaux châteaux, see what makes it tick and understand what makes it unique. Even fewer get open access to the owners, Aline and Pau Goldschmidt, whose hospitality could only be superseded by their passion for their art; winemaking.
Nature's Legacy
Château Siaurac is the largest property in Lalande de Pomerol and covers more than 60 hectares. Its exterior is fringed by a long gravel driveway that is surrounded on both sides by woods, before opening out its views onto the rows of vines stretched out methodically beyond a picturesque stream going about its peaceful business. Past the gravel path and around the courner of the recently decorated tasting room, the landscaped garden awaits. Designed in the nineteenth century from a plan produced in 1832 (by Aline's great, great grandfather) it soon becomes clear that Château Siaurac is more than a conveyor-belt for grapes, all be it fine ones.
Aline is our gracious and passionate host and what she doesn't know about the wildlife, trees and plants in this 15 hectare plot dedicated to woods and wildlife isn't worth worrying about. She knows every flower, has studied the progress of every tree and has even devised her own guided walk for visitors (using annotated cards with numbers) so everyone can appreciate this natural haven, with or without her expert tips in person. In short, she is both genuinely engaged and fiercely protective of the château's natural heritage. And it's a pleasure to witness.
It's in the History
Given six generations have worked tirelessly to build, maintain and develop Château Siaurac it's hardly surprising Aline is protective of her heritage. The photograph of her grandmother with her new husband, naval officer and writer Baron Louis Guichard, hangs proudly in the tasting room (and on souvenir postcards) as a reminder of their legacy. Following their marriage in 1919 the couple added 'Vray Croix de Gay' to Siaurac and Prieure in 1949. Indeed, today the three Chateaux remain part of the 'Baronne Guichard Wines' which Aline and Paul now own.
In 1978 Louis died and his son Olivier took charge of the properties, launching a big modernisation project in 1998 which involved taking on winemaker Yannik Reyrel (a pupil of the prestigious winemaker Pétrus). When Olivier died in 2004 the future of the three estates hung in the balance until Aline and Paul decided a sell-out wasn't an option. They took the helm and once again began a restoration project that took them until 2007 – when they left their home and businesses in Paris to live in Siaurac full-time. It is then, Aline says, the adventure really began.
The Vision
The adventure has seen Aline and Paul transform the Château, making it habitable, while preserving both the history and the essence of its core. Rooms are high, large and adorned with paintings and antiques that would make any antique dealer weak at the knees. My room had its own free-standing bath hidden behind a screen that wouldn't look out of place in a Jane Austin adaptation. The sets of silver tableware, cutlery and china plates also had me concentrating more than I'm used to when setting the table for dinner. Indeed, if the mantra of Château Siaurac is to respect the land it is also to live by gastronomy and innovation, both of which the Goldschmidt's adhere to with a passion.
The couple's innovation is most prominent in their work with wine. If the garden and Château are all about maintaining a harmony with heritage then the process of promoting the fruits of their labour is one of change. Aware that the wine industry is growing and Bordeaux has to stay on its toes to keep up with the switch in people's palates and preferences, Châteaux Siaurac is not one to rest on the laurels of a good reputation.
Indeed, despite winning awards for excellence – the latest being an International award for 'Best of Wine Tourism 2012' for Bordeaux Châteaux in the category of 'Product and Innovation' (there's that word again) – Château Siaurac is making its wines more accessible than ever with personalised tastings, workshops, picnics and even children's packages for families. Their tasting room can even be hired out for celebrations or functions.
The Future
So what for the future? As my stay drew to a close and I sat indulging in the fresh brioche still warm from the local bakery I couldn't help but feel energised. Not for the buttery sweetness of the bread, or the sugar in my freshly squeezed orange juice, or even from the aerobics from Aline's recently adopted cockatiel (found in the vineyards). It was the realisation that you can have the best of both worlds. While no one can predict the future of the global wine market, or indeed the fickle behaviour of the public, you can be sure that Château Siaurac will continue to drive itself forward while staying true to its values; indeed as Paul points out, the wines they produce are not down to fancy techniques but rather, they boil down to an expression of the exceptional quality of their soils and the hard work of the winemakers in the vineyards.
One for the Road
With all this hard work, come rewards and while my hand luggage-only restrictions spoilt my plans for hot-footing it back across The Channel with my own personal stash, you'll be pleased to hear you can buy Châteaux Siaurac wine outside l'hexagone - although, it goes without saying picking your favourite is not an easy task, (the Pomerol just tipped it for me).
So, with a list in my hand and a final tour of the estates oldest vines (survivors of the 1956 frost that devastated the area) under my belt, I made my way once again down the gravel path back to Bordeaux. This time however, with a certain joie de vivre that comes from spending a weekend in the company of those who exemplify the very art of living to enjoy, and celebrate, fantastic wine. I'll say cheers to that.