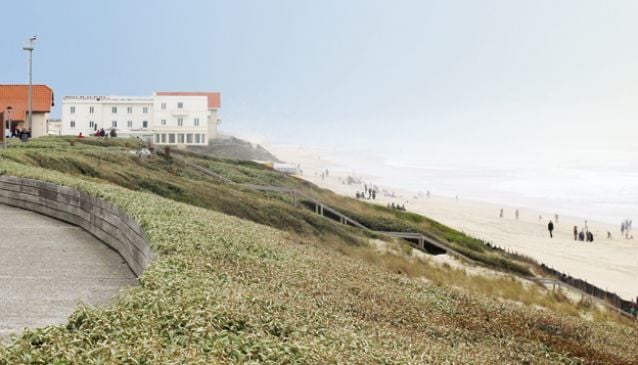 24 Hours on Bordeaux' Cote d'Argent
Inspiration
Make sure you venture into a local restaurant to try the Cap Ferret oysters
For those who have yet to experience France's best kept secret, I'hexagone is about to get even more intriguing. Famed for the rugged coves of la Bretagne, golden stretches of the Vendée and manicured swathes of the Côte d'Azure, venture just west of Bordeaux, and there's a new kid in town that's vying for attention.
Well, we say 'new' this isn't strictly true. The impressive Côte d'Argent coastline is no secret to the locals who have embraced this 200km stretch of silvery sand for decades. Nor is it new to those hundreds of tourists who have already run the sand between their toes and enjoyed the warm breeze from the rolling Atlantic. What is new however, is the growing sentiment that the Cote d'Argent is more than a convenient stop-off en-route to the polished Côte d'Azure, or merely a day trip for city-breakers soaking up Bordeaux. Indeed, when you consider that this swathe of sandy perfection extends from the Gironde estuary in the north to the buzzing coastal resort of Biarritz, the potential for secrets is vast.
Secrets of which I was keen to be in on…
What to See: Explore, Arcachon Basin
For those who strive to find an outlet for on 'off the beaten path' adventure just think of those fishermen and peasants who, back in 1857 made their home in the forest 55km southwest of Bordeaux. Building wooden huts and living among the pines and oaks away from transport links life was undoubtedly shrouded in mystery. Today you can still venture into the Landes forest however, in place of the wooden huts you'll see Victorian Arcachon villa's and where transport links were once dirt tracks you'll be able to drive your car in comfort. Indeed, Arcachon today is a thriving town thanks to France's wealthy bourgeoisie making it their home, and in doing so injecting a shot of chic.
Follow the coast north and you'll be in the Arcachon Basin where you can extend this foray into understated elegance all the way to the finger of headland culminating in Cap Ferret. Home to France's oyster trade, supplying as it does the country's entire share you would expect commercialism to have taken hold. Refreshingly, Cap Ferret is as understated as its neighbours, proving refinement isn't always synonymous with an over-eager desire to self-promote.
Local Tip: Make sure you venture into a local restaurant to try the Cap Ferret oysters before sitting back with a glass of Crémant and the sand between your toes.
What to Do: Surf, Dune du Pyla
Stretching for over 3km and coming in at over 100 meters high Dune du Pyla is Europe's largest sand dune, and a must for anyone travelling along the Côte d'Argent for two main reasons. The first is without doubt the views. Once you've climbed to the top, navigating the built-in stairway clinging to its forest-facing façade the rewards are instant. Vistas sweeping out over the cobalt Atlantic encompass Arcachon and its basin to the left, as well as the tip of Cap Ferret. Look closely and you can pick out surfers and swimmers enjoying the waves, while early evening gives rise to dolphins and porpoises for the eagle eyed. Secondly, it's awesome fun to slide down…
True, it is sufficient to descend the dune in the manner by which you came; it is a whole lot more exciting to do it lying on your stomach, hoping for the best as sand blurs your vision and spectators hold their breath. Dune surfing, or in my case body boarding, is a unique way to experience the dune and one that I was fortunate enough to get to grips with. Given the video is here as living proof it would be fair to say it was a lot harder than it looks, however, once sand-borne the adrenaline rush as I powered towards the pines below made up for previous waves of embarrassment as my body had as much aerodynacity as a sack of freshly ploughed 'pommes de terre' .
Local tip: My trip to the Dune du Pyla and the body boarding adventure was organised by James Hanberry of Belle Vie Xperience . James hires out his fleet of VW Campers to holiday makers to travel round the region in style as well as organising bespoke itineraries, including surfing breaks and yoga escapes run by his partner in crime, wife Rachel.
Where to Eat: A touch of the exotic, Histoire d'
Given its situation it's no big surprise that seafood is a popular fare for restaurants along the Côte d'Argent. What is a surprise however, is when you find a restaurant that combines local with the exotic in a setting that draws from the colour and vibrancy of the Caribbean with French al fresco chic. Histoire d' is a restaurant and bar that stands out from the crowd. The food is loud and proud, while the décor is laid back, intimate and atmospheric. Drapes and palms decorate the interiors while views over Biscarosse Beach welcome diners on every table. On the surface the menu appears traditional with velouté de petits pois and steak de thon a la plancha; however, once placed in front of you it's clear things here come with a twist. The velouté sits in a glass, maximising the clout of its vibrant hue, and voluminous flavour, while the tuna is presented on a plate so colourful it seems a shame to cut into it. As night falls tables sparkle with lanterns and candles and the relaxed atmosphere comes into its own.
Local Tip: If making your mind up on desert is just too tough (or you're struggling for space; the portions here are generous) opt for their sweet tasting platter with your coffee. A mini 'amuse bouche' of flavours encapsulating what the restaurant is all about; choice and that personal touch.
Where to Sleep: Boutique Guest House, Cote et Dune
A stone's throw from Biscarosse Beach, Côte et Dune has location nailed. Nestled in a quiet suburban residence, its minimal white exterior laced with shells and nods to nature neatly blend into its surroundings. This unassuming modesty, which sits so well with the general vibe along the Côte d'Agent, is however, misleading. Côte et Dune is far from ordinary, as the service it provides to the details which exude from every perfectly designed living space. Indeed, each room is unique, with rooms ranging from 'Malibu' to 'Byron Bay' and 'Bondi Beach' and interiors reflecting the vibe accordingly. Diamanté encrusted shells, sticks and branches adorned with knitted snugs and vintage luggage, books and stickers accentuate the smooth colours, calming fabrics and intricate tiling.
An outdoor plunge pool offers up an alternative to the beach, while a raised terrace area not only makes the ultimate place to watch the sun sink but also plays host to yoga classes. These little touches are really what Côte et Dune are all about; yes, the décor is outstanding, yes the location is ideal; but what makes you sit up and take note is the owner's dedication to making your stay so special. French toast cooked in front of me for breakfast? Mmm, yes please.
Local Tip: treat yourself to a hamper to enjoy on the beach as the sun goes down. With crusty bread, foie gras and a bottle of wine or champagne picnics just got sophisticated.