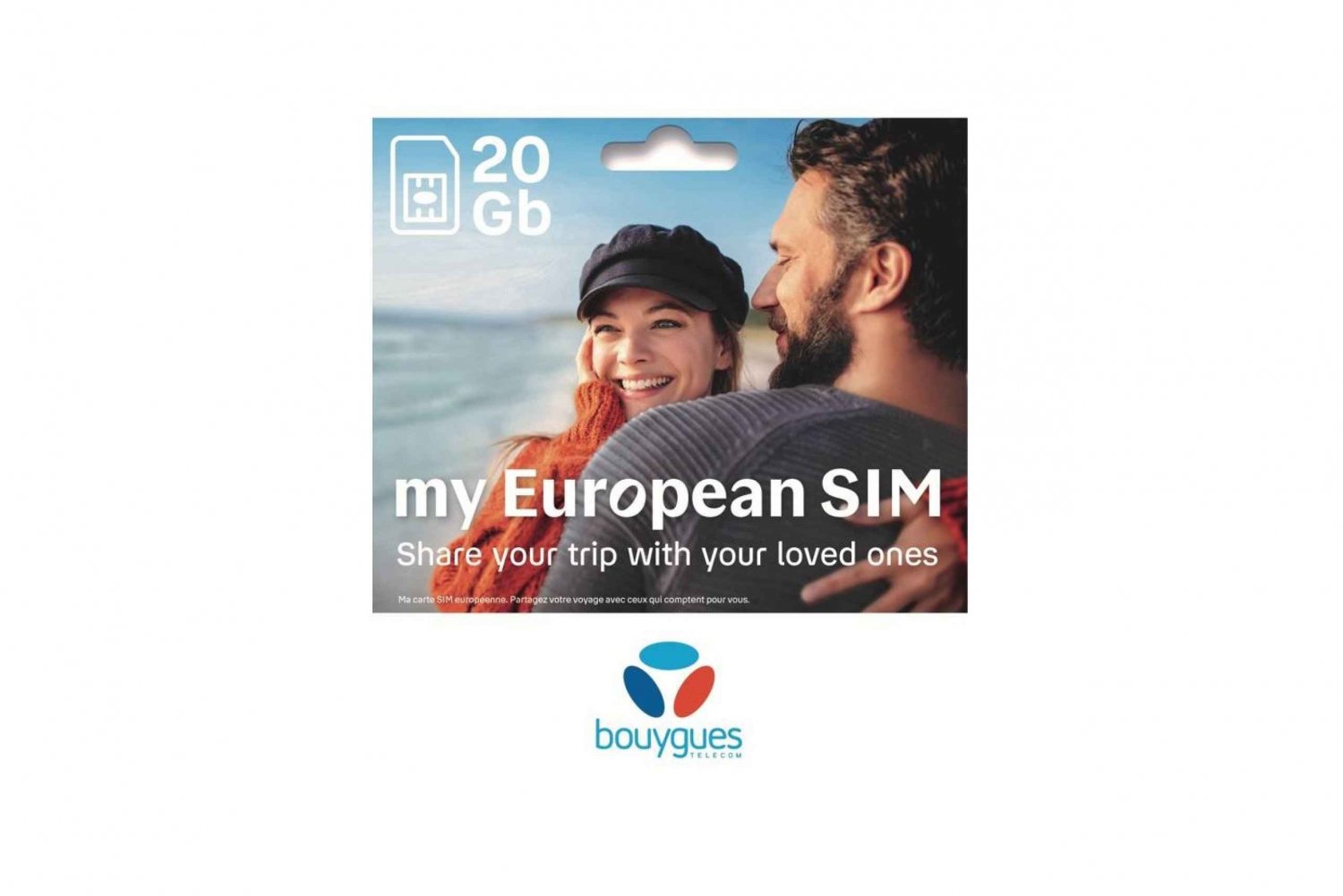 Event Details
Highlights
30GB 4G/LTE in France & Europe
Unlimited Calls within Europe
Unlimited SMS within Europe
Phone Number included
Coverage in Europe after activation in France
Description
Data: 30GB Calls: Unlimited within Europe SMS: Unlimited within Europe Validity: 30 Days You will receive a QR code in the email confirmation that allows you to activate the eSIM on your smartphone. It also includes a PDF attachment with useful information regarding your eSIM. Please make sure that your smartphone is eSIM-compatible and carrier-unlocked! No More Roaming Cost You are going on holiday or travel on a business trip to France? With my European eSIM from Bouygues Telecom you will not have to worry about expensive roaming fees anymore! Browse the internet in all of France and Europe at no extra cost guaranteed! 30GB internet in France Enjoy 30GB in 4G/LTE highspeed connection in all of France. After your first activation within France, you can use your data allowance in all Europe. With your My European eSIM you can enjoy unlimited calls & texts in France and within all Europe (see county coverage in the coverage list). On top we give you a 25 Euro credit for calls and texts to international and France overseas numbers for FREE. Coverage in 53 countries After being activated in France use my European SIM in all of following European countries: Aland Islands, Andorra, Austria, Azores, Balearic Islands, Belgium, Bulgaria, Canary Islands, Corfu, Crete, Croatia, Cyclades, Cyprus, Czech Republic, Denmark, England, Estonia, Faroe Islands, Finland, Germany, Gibraltar, Greece, Greenland, Guernsey, Hungary, Ireland, Jersey, Iceland, Italy, Latvia, Liechtenstein, Lithuania, Luxembourg, Madeira, Malta, Man (Isle of), Northern Ireland, Norway, Netherlands, Poland, Portugal, Rhodes Island, Romania, Sardinia, Scotland, Sicily, Slovakia, Slovenia, Spain, Sweden, Vatican, Wales, Wight (Isle of).
Includes
QR Code to scan the eSIM PDF Manual Guide Tour Guide for France via SMS after first activation
Important Information
Please ensure your device is eSIM-compatible and carrier-unlocked! This eSIM is valid for 30 days after the first activation in France. Afterwards, it works everywhere in Europe - Please enable data roaming. After successful delivery of the eSIM via email, the eSIM is non-refundable.
Easy cancellation
Cancel up to 24 hours in advance for a full refund